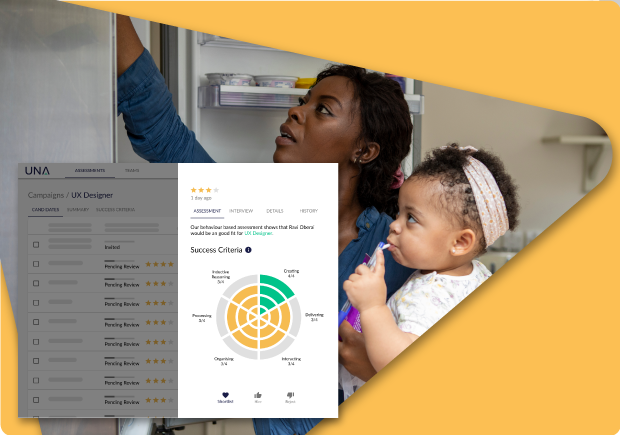 Why UNA?
Most assessments miss true potential, because they can't measure intelligence and personality together. That's where UNA's different. See everything, every time, and make every hire the right one.
Hire healthy. Go potential-based.
Your hiring is what you put into it – and subjective CVs are just empty calories. With UNA, see your candidates' intelligence and personality in one assessment, and discover the joys of hiring for potential.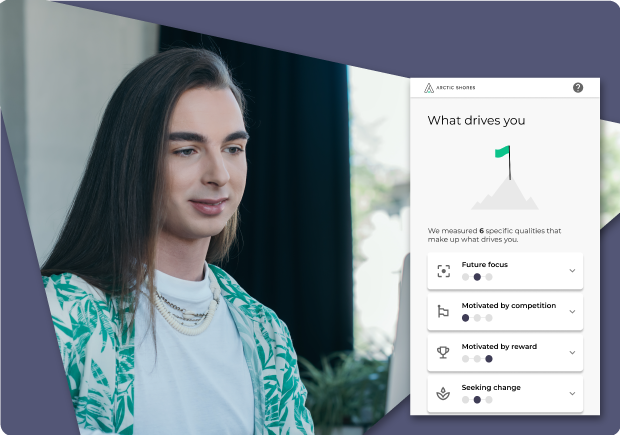 See potential without barriers
Forget mandatory training and months-long onboarding – UNA's ready when you are. Simply grab your computer, and start seeing more in people. For deeper insight without delay.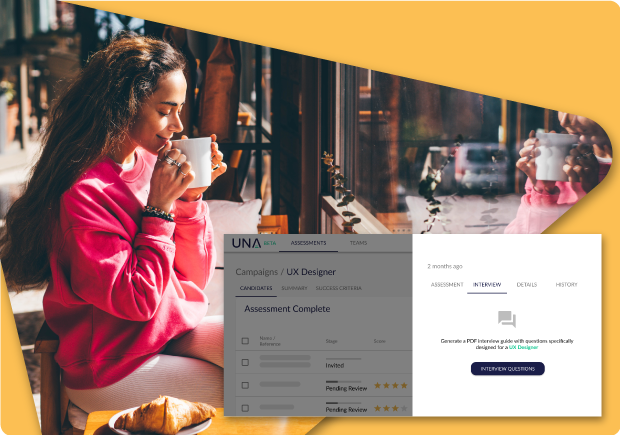 Make talent discovery scalable
With UNA, your screening scales with you. Build reusable campaign templates, see your candidates' potential at a glance, and take predictable steps at the touch of a button.

Clear reporting
See every candidate's truest potential, clear as day, with accessible, actionable reports.

Consistent interviews
Give every candidate a fair, consistent interview experience, from one hiring manager to the next, with our Interview Guides.

Assessment Branding
Take our assessment and make it yours, by adding your brand colours, logos and corporate images.

Total Support
Our experienced Customer Success team uses real-time data to nurture and refine your process. For constant discovery.

Business Psychology as a Service (BPaaS)
Get expert support with job analysis, stakeholder workshops, ROI, campaign analytics and more.